Having nothing better to do this weekend I decided I had better start on my bike for Pezz's scrapheap ride.
I'm planning on taking my time on this one so it may be a while between updates.
Anyway on Thursday morning I went out to pic up the donor bike for the project, an old (86 model from memory) RZ350 rolling chassis that I picked up a few years ago and promptly did nothing with...
Then I spent the night and Friday night stripping down to the frame.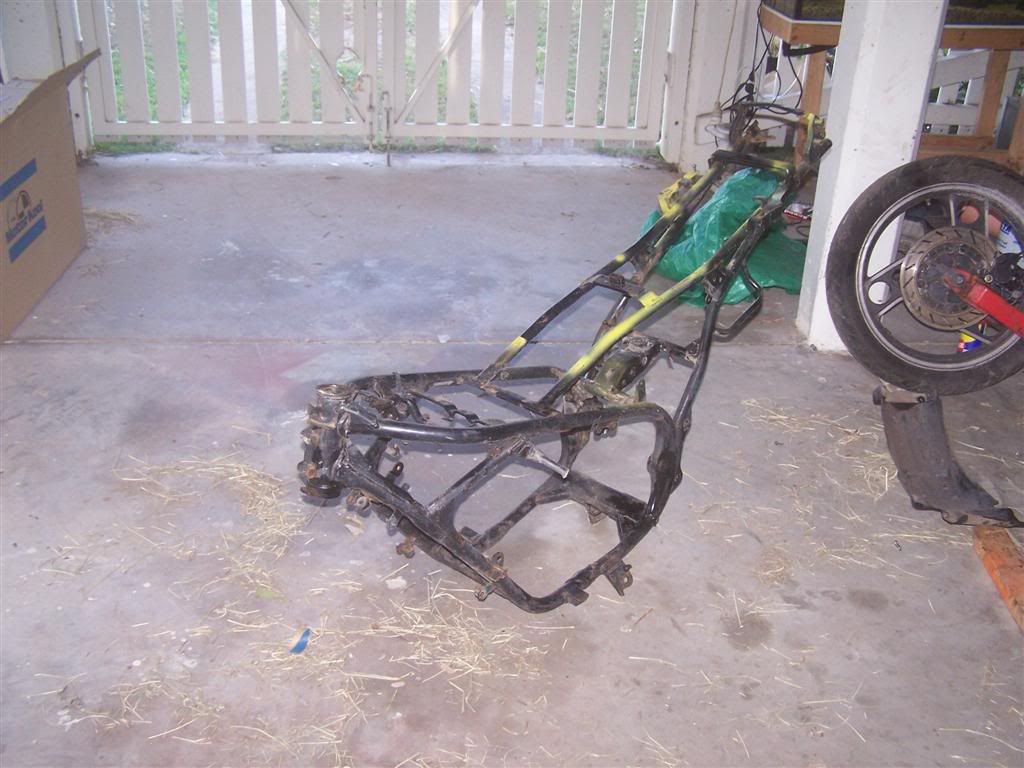 Saturday dawned to another trip out the iDIOT cAVE to collect some suitable suspension.
I wanted to keep it all Yamaha in the hope that it may minimize hassles in making parts fit, so that limited my choices to three bikes.
An old XT that was well past it's used by date, my DT that I have plans for, and the most suitable, an old WR200 that I picked up for a couple of hundred with the intention of rebuilding it.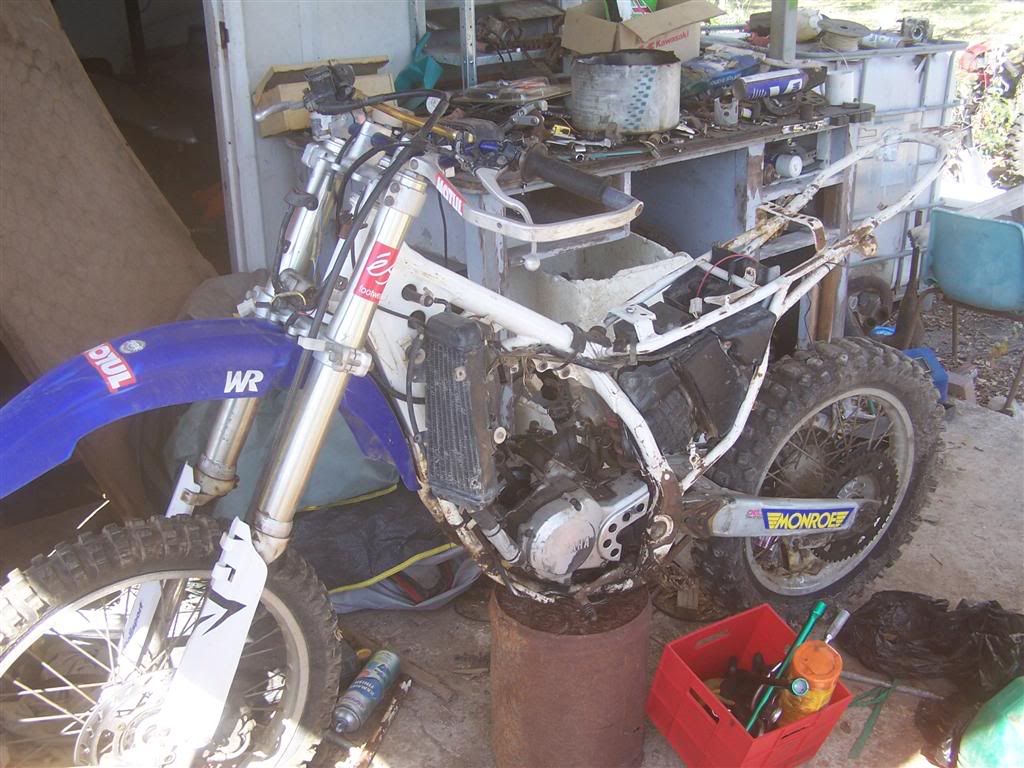 I had decided a few months ago that the WR wasn't worth the rebuild.
It was a pre compliance model so I couldn't get it registered, there was some severe bending and rust in the subframe, and the old owner was a completely incompetent when it came to maintenance.
So it lost its wheels, swingarm and front end, all to to aid in the creation of the two stroke dirt monster.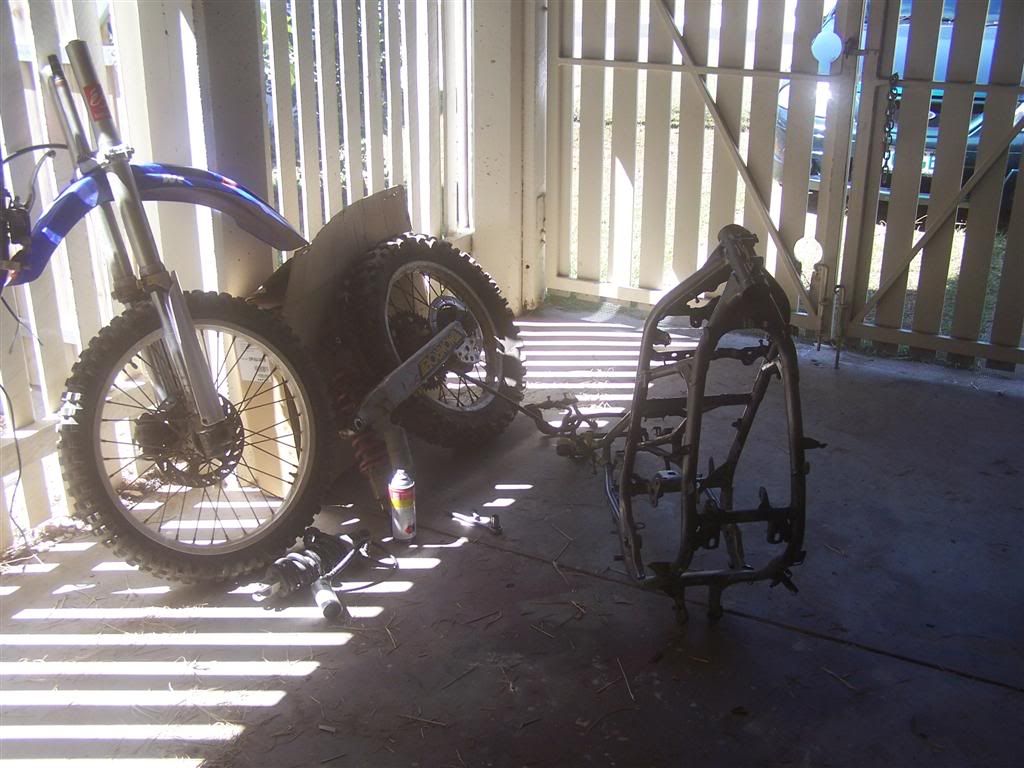 And they were fitted up for a test fit.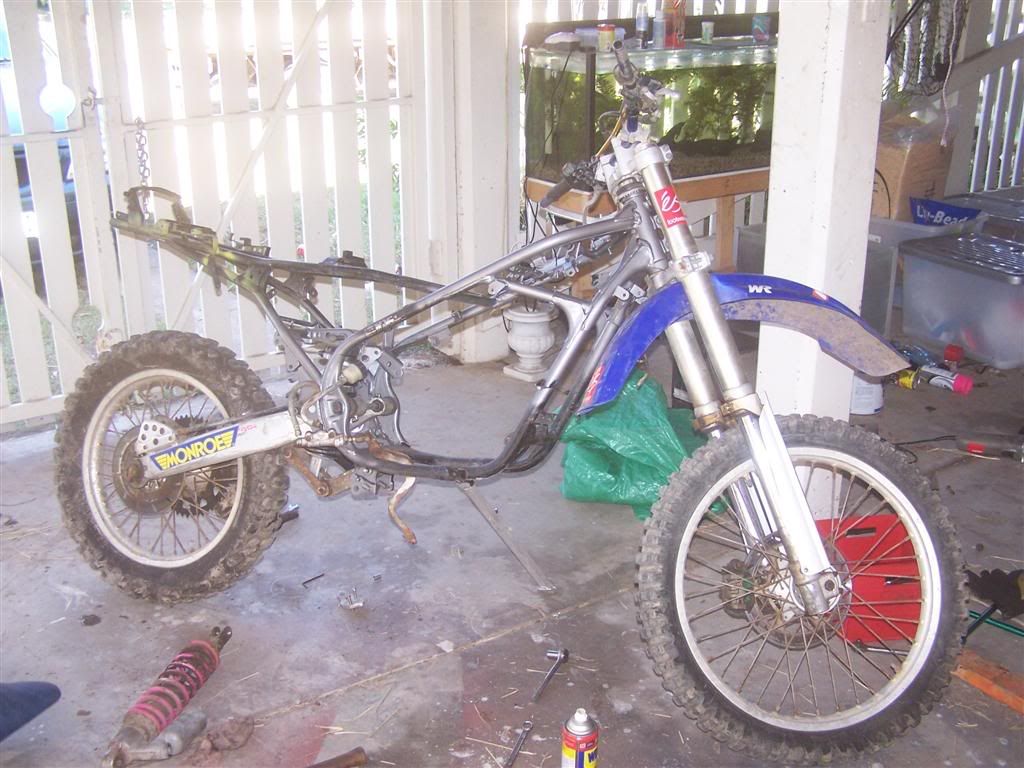 As expected there were fitting problems, but nothing major.
The shock mounting point is about 100 mm lower than it needs to be, so I have fitted a shock from a BMW 650 Dakar, that is the correct length for what I need, but the spring is so hard I could only get it to move a few mm by sitting on it and jumping up and down on it.
The swing arm is also a 10 or 20 mm thiner at the mounting point than the original, but it doesn't look like anything a few strategical placed spacers wont fix... And it will help with sprocket alignment anyway...
And the front end is going from ball bearings to roller bearings so the usual problems are there.
But it was a good start.
Today I was back out at the olds place to grab the original inspiration for the build...
My old bike build in a weekend bike, the RZ.
And thats about as far as I got so far.
Hopefully I will get time to see if I can get the steering stem bearings during the week, and I'll start stripping to RZ's motor to give it a good clean.
I'm really looking forward to this.