Moonan Flat to Scone the long way.
Approx 270 k's all easy going suitable for anyone.
Route kindly provided by Mark1957
So blame him if it goes bad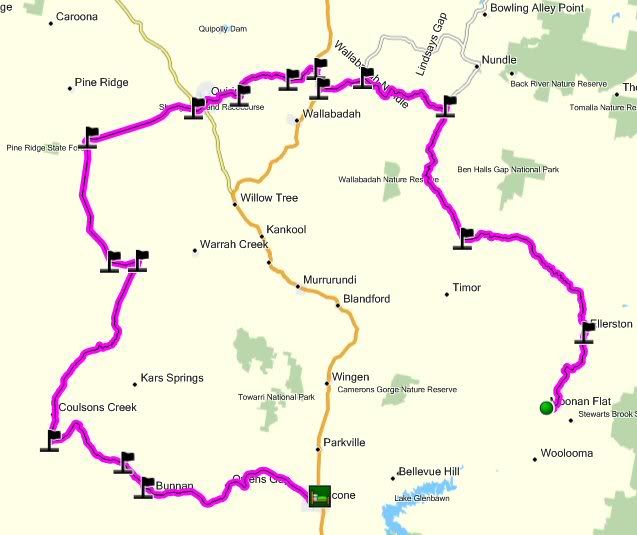 For those of you who dont want to join the 21st century and dont have Sat Nav here are Marks instructions
"Set your Google maps so you can see the 5km scale in the bottom corner.
Then the outline of the route will be-
Ride from Moonan Flat to Ellerston, turn left at Ellerston to Pages Creek ,follow through to Isaacs Creek rd then right into Jenkins rd and go through Crawney.
At the end of this turn left into Wallabadah-Nundle rd, follow to the New England Hwy then turn right.
After about 5kms turn left into Quirindi-Gaspard rd ( you will need to scroll in a bit to see the name of this rd)
Follow this to Quirindi then cross over Kamiloroi Hwy and head west on Quirindi-Warrah Ridge rd.
Turn left into Cattle Lane and follow this to Blackville rd, turn left then soon after turn right into Merriwa-Murrurundi rd.
Follow this for about 30kms and turn left into Dales Creek rd and follow to Kars Springs rd.
Dales creek rd turns off just before Middle Creek rd which is on the right.
You will have to scroll in to the 200metre scale to see Dales creek rd.
When you get to Kars Springs rd turn right and follow to Merriwa-Scone rd, turn left and follow it to Scone."