Todd (Stockton) and Jason (Foster) were going to the rally and invited me along for the ride, so to speak. T & J had planned an interesting route for themselves on the first day. From Newcastle thru the Watagans NP to St Albans, Wheelbarrow Ridge to Colo Heights, Upper Colo, Bilpin to Edith, down to Goulbourn and some back roads to Bungendore, where we were to meet up and stay the night at the Royal Hotel. I finished night shift 5.30 Friday morning and after a few hours sleep I set off down to Nowra. It was a hot and humid day with a few storms coming in from the west. I managed to beat all but one of the storm fronts, with one bolt of lightening and a big clap of thunder very close when I was going thru the road works near Berry. The rain was refreshing and the temperature had dropped slightly but I was dry by the time I got to Nerriga.
My first stop on Oallen Rd, was feeling a bit weary by now
Soon enough I was at the Royal in Bungendore, right on 5 pm. I was on my second schooner when the others turned up. We took the bikes up the back to find this little gem
Note the beer barrel wheel arches.
We had a good night with cold refreshments and a great Chinese at the pub, and plenty of banter.
https://www.google.com.au/maps/dir/Woll ... 541123!3e0
Saturday breakfast was at the local bakery (surprise, surprise), then off to Queanbeyan and out thru Googong and Burra to cross the Monaro Hwy at Williamsdale. Then across The Angle Crossing heading to Namadgi NP and Shannons Flat where we took a detour along Yaouk Rd to Adaminaby for an early lunch, at the bakery of course (top feed and excellent coffee)
Early morning fog along Burra Rd
Jason on The Angle Crossing. It was much higher last year when we crossed here
Along Bobeyan Rd in Namadgi NP (don't tell Ocker we found another hospital
)
A straight, flat part of Yaouk Rd. It's a nice run thru here
It had warmed up nicely, but we didn't have time for a swim, so a wash in the Murrumbidgee would have to do
After lunch we headed for Jindy, where we stocked up for our evening at Pinch River.
There were storms all around but we were lucky and had sort of gone between o few.
On Barry Way
After a great ride down the range and travelling beside the Snowy River we reached the rally site. We quickly set up camp and then headed for a dip in the Snowy, followed be a paddle in the Pinch, very refreshing.
Don't worry about bringing your tent Don, says Todd very confidently. We'll put a ground sheet down and a cover over the top. O....K I say, hesitantly. He forgot to mention that they had swags.........no wonder he was so confident.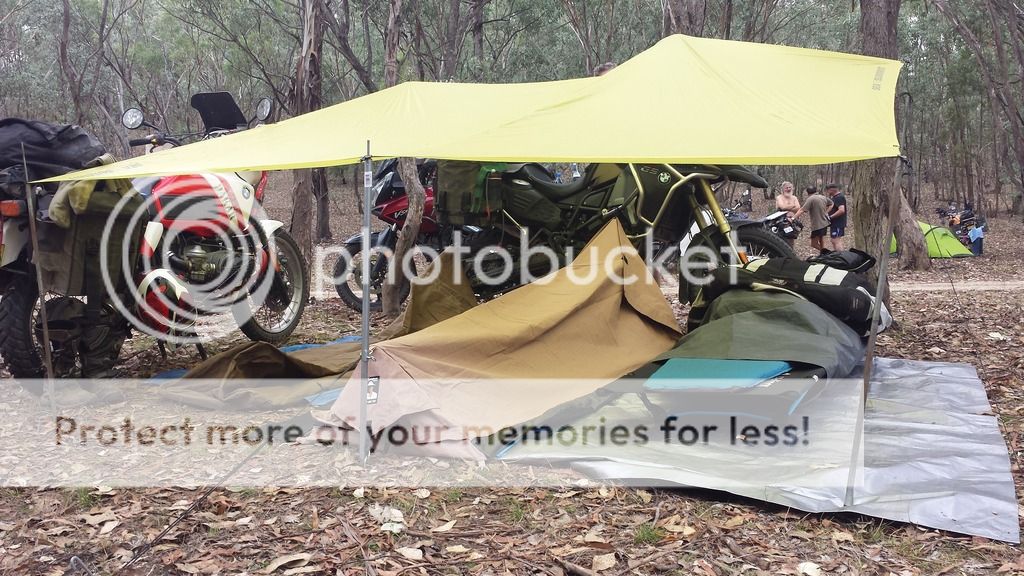 But I was snug as a bug in my new Helinox cot one.
Some random pics
We had a great night, catching up with some others, including my good mate from Canberra, Bourkey.
https://www.google.com.au/maps/dir/Bung ... a3!1m0!3e0
A reasonable early rise in the morning to pack up and get going, as we had a fairly big day in front of us.
Barry Way, alongside the Snowy, heading toward Victoria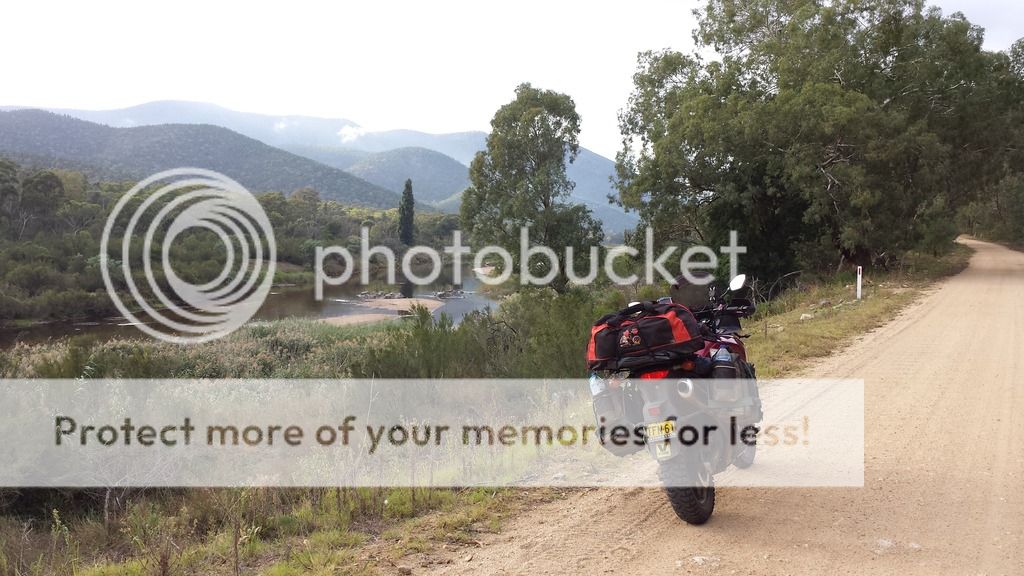 Our turn off onto Limestone Rd, another gem.
Smoko time, deep in brumby country
A beaut ride along here, apart from some of the 4bys thinking we shouldn't on their road.
Benambra
Lucky we didn't need fuel.............(there's fuel in the main street, around the corner)
From here it's 120 km to Corryong, about 70 of which is very bony hard packed gravel road, not one of my favs. But the scenery makes up for it
Corryong for fuel and nice lunch
After lunch we headed north and crossed the Murray River near Towong. There was a swimming spot before we crossed the boarder, but missed the turn in, otherwise a swim might have happened.
Up thru Tumba and we found some nice roads on our way to Tumut, avoiding Batlow.
Then it was straight to the Tumut River, right in town, for a dip
We had trouble getting accommodation for the night. All but one of the 6 or 7 pubs in town were closing for the night. 6 pm on Sunday, really??? The Oriental was open for business and had a great menu for dinner, but their rooms were being renovated at the time. So next door to the Tumut Motel and we (Jason) got a family room with a queen and 2 singles for $55 each. A great room and very friendly and helpful owners. We were even allowed to park under their private carport
https://www.google.com.au/maps/dir/-36. ... 010668!3e0
Was our last night together on this ride, as I was heading for Canberra to see some of my kids and grandies
A b&e roll and coffee for brekkie and of for Wee Jasper via the forest Rd, another not so favourite of mine. We parted company at Mountain Creek Rd, on my way to Canberra.
I spent a couple of hours in Canberra and decided to head home the way I came. Thru Bungendore, Tarago and Nerriga. But when I got near Oallen Rd there was a truck acciden and the police closed the road, so I had to do a u turn and go back. By now I just wanted to get home, so the quickest way was Goulbourn and the Hume. I had a few storms to dodge and wait out but got home dry.
Another top ride and weekend, thanks to Todd and Jason for letting me tag along.
Just a note on the rally. Some of you may remember that an old work friend , and close friend of Bourkey's , Lenny , went missing late last year. There was a big search for him (police, SES, Dog Squad, Pol-air and a heap of us) on his hobby farm near Yass for a couple of days, to no avail. His partner noticed a smell about 3 weeks later and they found his body in a sealed water tank.
Len was one of the original organisers and instigators of the" Cold Flame" rally. This year, the Cold Flame Rally become an official fund raising event for Beyond Blue.
It was good to see his partner and the old brigade there.
Long Live Lenny